Vanmorgen ben ik begonnen aan de eerste rit van mijn 1000 km uitdaging. Het weer buiten was nat en winderig, dus ik koos ervoor om binnen te rijden met behulp van de Zwift virtual reality fietsomgeving.
This morning I started my the first ride of my 1000 km challenge. The weather was wet, windy and miserable, so I chose to ride indoors using the Zwift virtual reality cycling environment.
Mijn doel was 30 km, dus ik heb een geschikte route uitgezocht in Zwift en stelde die op. Om Zwift te kunnen gebruiken heb ik mijn racefiets op een Tacx Flux computergestuurde trainer gemonteerd, die is aangesloten op mijn laptop. Zwift draait op de laptop en bestuurt en verzamelt gegevens van de trainer en mijn hartslagmeter. De hele set-up ziet er zo uit:
My target was 30 km, so I found a suitable route in Zwift and set up accordingly. To use Zwift I have my race bike mounted on a Tacx Flux computer controlled trainer, which is turn is connected to my laptop. Zwift runs on the laptop controlling and gathering data from the trainer and my heart rate monitor. The whole setup looks like this: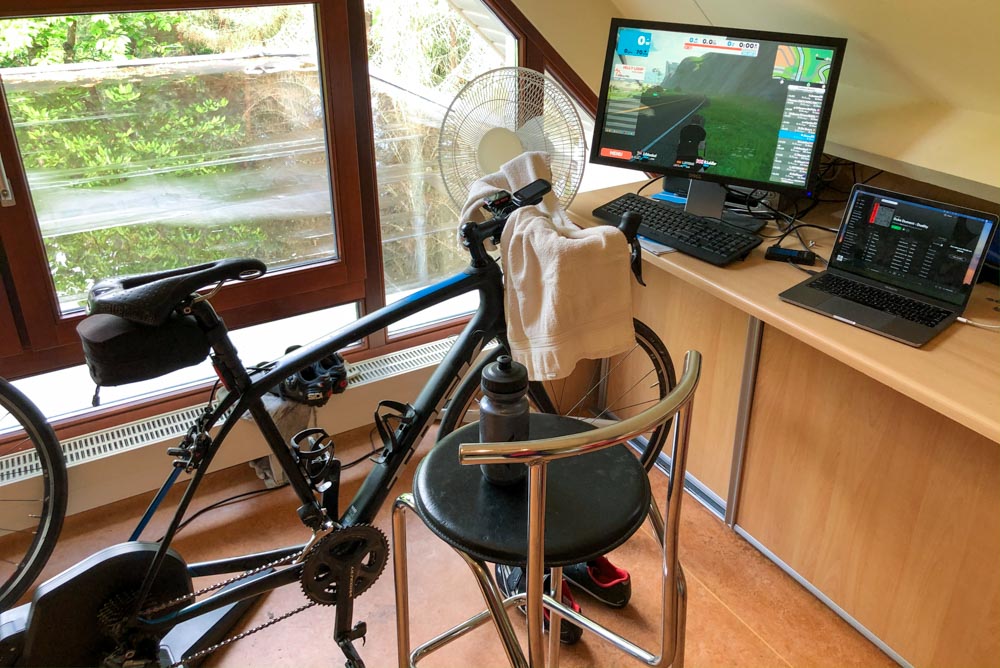 Fietsen op Zwift is erg leuk. Je deelt de omgeving in real time met potentieel duizenden andere fietsers – in de afgelopen weken heb ik het aantal boven de 20.000 zien uitkomen. Je kunt met ze chatten, ze volgen om je weerstand te verminderen en met ze concurreren. Er zijn verschillende locaties waar je kan fietsen, waaronder een virtueel Londen, New York, Innsbruck en andere, plus een fictieve locatie genaamd Watopia. Watopia is een potpourri van omgevingen, variërend van woestijn tot bergen en een vulkaan. Voor de rit van vandaag heb ik gekozen voor een Watopia-route genaamd "Road to Ruins" die een aantal middelzware beklimmingen omvat en je door junglewegen en oude ruïnes voert.Dit alles maakt een anders zo vervelend saaie binnenrit zeer vermakelijk.
Cycling on Zwift is a lot of fun. You share the environment in real time with potentially thousands of other cyclists – in the last weeks I've seen the number exceed 20,000. You can chat to them, follow them to reduce your drag and compete with them. There are different locations that you cycle, including a virtual London, New York, Innsbruck and others plus a fictious location called Watopia. Watopia is a potpourri of environments, ranging from desert through to mountains and a volcano. For today's ride I chose a Watopia route called "Road to Ruins" which includes some medium hard climbs and takes you through jungle roads and ancient ruins. All of which makes an otherwise tediously boring indoor ride very entertaining.
Finished! (In the virtual rain)
Er zijn allerlei coole apps die je helpen om een rit te analyseren en te herbeleven. Ik verzamel de gegevens van al mijn fietsritten online in zowel Strava als Garmin Connect en offline in RubiTrack 5. Het is ook leuk om je rit te bekijken met de Relive app. Aan het eind van dit artikel vind je samenvattingen van de rit van zowel Strava als Relive.
Ik ben ook van plan om een samenvatting van mijn ritten en metingen van gewicht en conditie te publiceren, want ik ben benieuwd welk effect het fietsen van 1000 km in 2 maanden op mijn gezondheid zal hebben. De tabel hieronder geeft een overzicht van mijn eerste rit en de eerste fitnessmetingen:
There are all kinds of cool apps that help you analyse and relive a ride. I collect the data from all my bike rides online in both Strava and Garmin Connect and offline in RubiTrack 5. It's also fun to review your ride using the Relive app. At the end of this article you can find summaries of the ride from both Strava and Relive.
I also plan to publish a summary of my rides and measures of weight and fitness as I'm quote curious what effect cycling 1000 km in 2 months will have on my health. The table below summarizes my first ride and initial fitness metrics:
| | | | | | | | | | | | |
| --- | --- | --- | --- | --- | --- | --- | --- | --- | --- | --- | --- |
| Date | Ride | Environment | Equipment | Dist (km) | Time | Climb (m) | Calories | Rel Effort | Weight (kg) | FTP | VO2 Max |
| 01/05/2020 | Zwift: Road to Ruins | Indoor | Damone SL7 | 30.46 | 01:08:59 | 276 | 706 | 111 | 87.5 | 206 | 43 |
| | | | | | | | | | | | |
| | | | | | | | | | | | |
| | | | | | | | | | | | |
| | Totals | | | 30.46 | 01:08:59 | 276 | 706 | | | | |