Ik werd zondag wakker met de bedoeling om een afstand van minstens drie cijfers voor een enkele rit te bereiken en dus plande ik een route van iets meer dan 100 km. De route voerde me door het prachtige landschap van de Landschotse Heide en liep omhoog naar Middelbeers en vervolgens naar Bladel en Weebosch.
I woke on Sunday with the intention of breaking into three figures for a single ride and so planned a route of just over 100km. The route took me through lovely countryside of the Landschotse Heide, looping up to Middelbeers then down to Bladel and Weebosch.
Het leek wel of iedereen met een fiets op zondag op pad was. Het weer was weer uitstekend, zij het met een koude wind die het dragen van een licht jack bij stilstand vereiste. Ik legde 100 km af in 3 uur 41 minuten, zonder dat ik me te moe voelde, wat mijn totaal op 431 km bracht. Misschien begonnen mijn inspanningen van de afgelopen weken een verbetering van mijn conditie op te leveren?
It seemed as though everyone with a bike was out cycling on Sunday. The weather was again excellent, albeit with a cold wind that required wearing a light jacket when stationary. I completed 100km in 3 hours 41 minutes, without feeling unduly tired, bringing my total to 431km. Perhaps my efforts over the last few weeks were starting to deliver an improvement in my fitness?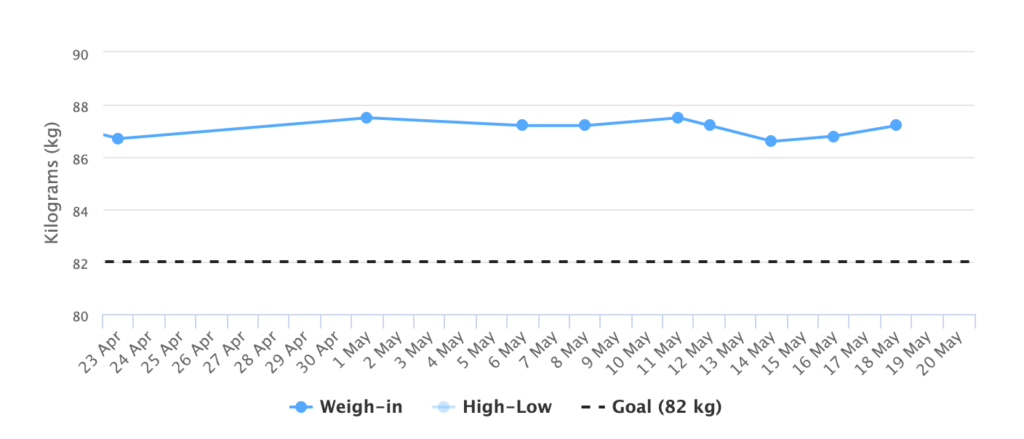 Kijkend naar mijn gewicht in de afgelopen vier weken, is er geen significante verandering, erger nog. Ik ben nog steeds ongeveer 5 kg te zwaar. Maar dan moet ik zeggen dat ik niet echt erg gedisciplineerd ben over wat ik eet. Hoewel ik de neiging heb om overdag te eten met calorieën in mijn achterhoofd, eet ik waarschijnlijk te veel 's avonds. En in het weekend is er wijn… Het is dus waarschijnlijk niet verwonderlijk dat mijn gewicht nauwelijks wordt beïnvloed door deze uitdaging.
Looking at my weight over the last four weeks, there's no significant change, worse luck. I'm still about 5kg too heavy. But then I have to say that I'm not really being very disciplined about what I eat. Although I tend to eat with calories in mind during the day, I probably consume too many at dinner. And at weekends there's wine… So, it's probably not surprising that my weight is barely affected by this challenge.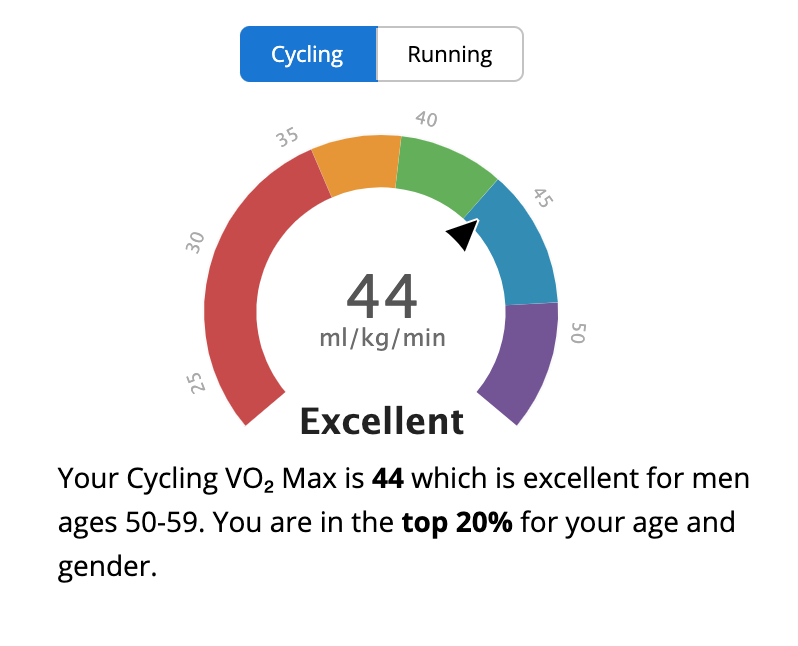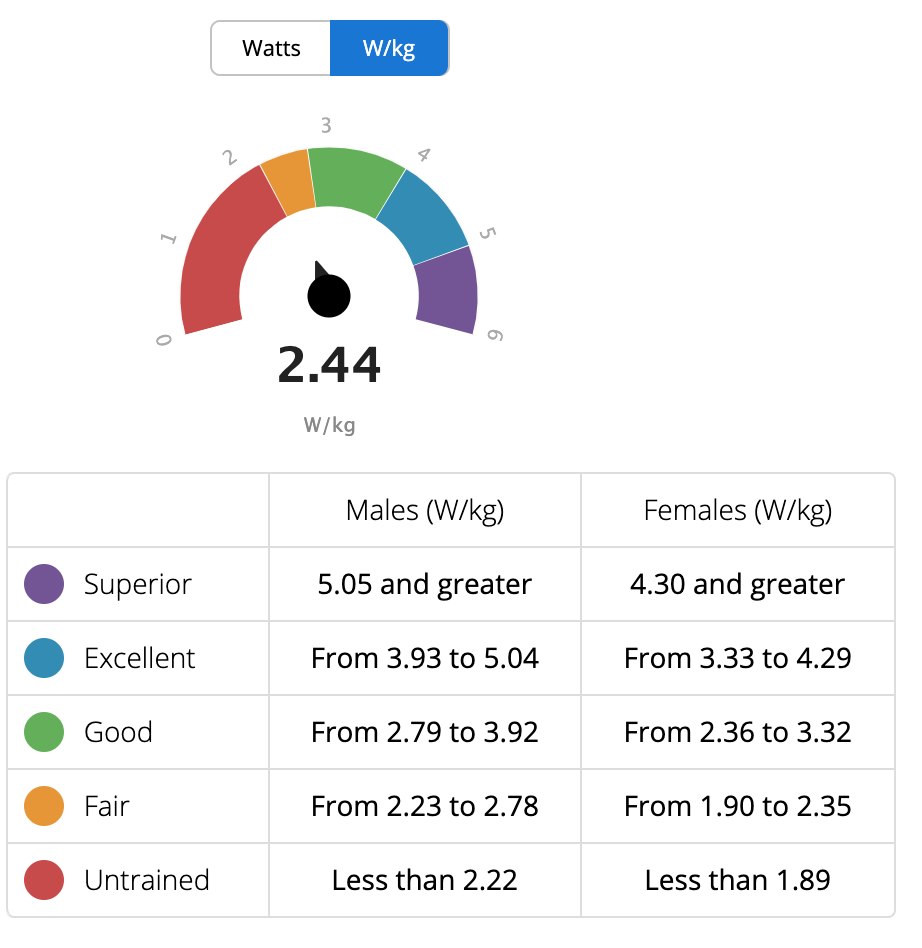 Kijkend naar mijn fietsprestaties die door Strava en Garmin zijn bepaald, op basis van vermogen, snelheid en hartslag, etc., gegevens die tijdens mijn rit zijn verzameld, dan is het eerste wat eruit springt dat mijn VO2 Max is toegenomen. VO₂ Max is een indicatie van de cardiovasculaire conditie en wordt door Garmin geschat op basis van alle fitnessgegevens die het verzamelt. Volgens Garmin is mijn VO2 Max 44, wat mij in de top 20% van mijn leeftijdsgroep plaatst en gelijk staat aan een fitnessleeftijd van 26 jaar. Jammer dat ik niet het lichaam van een 26 jarige heb die erbij hoort. 🙄
Mijn Functional Threshold Power (FTP), zoals geschat door Garmin, is ook omhoog gekropen. FTP is een meting van vermogensmeters. Het wordt beschouwd als het hoogste energieniveau dat je een uur lang kunt volhouden zonder dat je vermoeid raakt. Mijn FTP begon bij het begin van de uitdaging op 206W en heeft nu 213W bereikt, wat verheugend is. Maar FTP wordt vaak vergeleken met gewicht en in mijn geval resulteert dit in een slechtere metriek omdat ik te zwaar ben. Ik zou op een gegeven moment een echte FTP-test moeten doen om het daadwerkelijk te meten, in plaats van de schattingen van Garmin te gebruiken. Strava zet mijn huidige FTP op 237, op basis van mijn power performance curves voor het hele jaar. Vaak heb ik gevonden dat Strava's schattingen dichter bij de gemeten waarden liggen.
Looking at the cycling performance metrics determined by Strava and Garmin, based on power, speed and heart rate, etc, data collected during my ride, the first thing that jumps out is that my VO2 Max has increased. VO₂ Max is an indication of cardiovascular fitness and is estimated by Garmin based on all the fitness data it collects. According to Garmin my VO2 Max is 44, which puts in me in the top 20% of my age group and is equivalent to a fitness age of 26. Shame I don't have the body of a 26 yr old to go with it. 🙄
My Functional Threshold Power (FTP), as estimated by Garmin, has also been creeping up. FTP is a measurement from power meters. It is considered to be the highest power level you can maintain for one hour without growing fatigued. My FTP began at 206W at the start of the challenge and has now reached 213W, which is pleasing. But FTP is often compared to weight and in my case this results in a poorer metric because I'm too heavy. I should do a proper FTP test at some point to actually measure it, rather than use Garmin's estimates. Strava puts my current FTP at 237, base on my power performance curves for the whole year. Often I've found Strava's estimates to be closer to measured values.
Strava biedt een zeer nuttig totaalbeeld van fitness en vermoeidheid. De bovenstaande grafiek is voor de laatste 12 maanden en laat zien dat mijn fitnessmeting op dit moment 35 op hun schaal staat. Het was echter ook 35 in januari, en juni vorig jaar bereikte het de duizelingwekkende hoogte van 40 en is in het verleden zelfs 45 geweest. Dus volgens deze maatstaf is mijn conditie weliswaar aan het verbeteren, maar nog steeds slechts op gelijke hoogte met de vorige pieken en nog niet bijzonder uitzonderlijk.
Tot slot hou ik van de volgende metriek van Garmin – blijkbaar fiets ik sneller dan 89% van de mannen in mijn leeftijdsgroep. Dit maakt me erg blij.
Strava provides a very useful overall view of fitness and fatigue. The graph above is for the last 12 months and shows that my fitness measure is currently 35 on their scale. However, it was also 35 in January, and June last year reached the dizzy heights of 40 and has been as high as 45 in the past. So according to this measure, while my fitness is improving, it's still only on par with previous peaks and not yet particularly exceptional.
Finally, I like the following metric from Garmin – apparently I cycle faster than 89% of men in my age group. This makes me very happy.
| | | | | | | | | | | | |
| --- | --- | --- | --- | --- | --- | --- | --- | --- | --- | --- | --- |
| Date | Ride | Environment | Equipment | Dist (km) | Time | Climb (m) | Calories | Rel Effort | Weight (kg) | FTP | VO2 Max |
| 01/05/2020 | Zwift: Road to Ruins | Indoor | Damone SL7 | 30.46 | 01:08:59 | 276 | 706 | 111 | 87.5 | 206 | 43 |
| 03/05/2020 | RD Venlo 87 | Outdoor | Damone SL7 | 86.91 | 03:03:41 | 141 | 1812 | 296 | | 206 | 43 |
| 05/05/2020 | RD Someren Heeze | Outdoor | Damone SL7 | 34.55 | 01:14:41 | 45 | 739 | 70 | 87.2 | 210 | 43 |
| 07/05/2020 | RD Budel Schoot | Outdoor | Damone SL7 | 31.74 | 01:08:14 | 34 | 678 | 94 | | 210 | 43 |
| 09/05/2020 | RD Maasbracht 77 | Outdoor | Damone SL7 | 78.72 | 02:49:19 | 145 | 1605 | 223 | | 210 | 43 |
| 12/05/2020 | Zwift: Sand & Sequoias CW & CCW | Indoor | Damone SL7 | 40.08 | 01:15:00 | 347 | 770 | 98 | 87.2 | 213 | 43 |
| 14/05/2020 | RD Someren | Outdoor | Damone SL7 | 29.38 | 00:58:22 | 34 | 676 | 85 | 86.6 | 213 | 43 |
| 17/05/2020 | RD Middelbeers | Outdoor | Damone SL7 | 100.7 | 03:41:02 | 159 | 2138 | 222 | | 213 | 44 |
| | | | | | | | | | | | |
| | Totals | | | 432.54 | 15:19:18 | 1181 | 9124 | | | | |