Dit is een van mijn favoriete routes, aangezien hij ongeveer 10 km langs de Maas loopt. Het kruist ook prachtige landschappen, waaronder aspergevelden, fruitboerderijen en bossen. Vandaag was het weer koud tot fris (9-17C), met een lichte wind. Ideale fietsomstandigheden. Ik heb ervoor gekozen om lange mouwen en lange broeken te dragen, omdat ik het niet leuk vind om het koud te hebben tijdens het fietsen en ik me daarom behoorlijk comfortabel voelde. Maar de diversiteit aan kleding van de vele andere fietsers op de weg verrast me altijd, van mensen die bijna volledige winteruitrusting dragen tot mensen die gekleed zijn voor de hoogte van de zomer.
This is one of my favourite routes as it runs along the Maas for about 10 km. It also crosses through beautiful countryside, including asparagus fields, fruit farms and woods. Today the weather was cold to fresh (9-17C), with a light wind. Ideal cycling conditions. I chose to wear long sleeves and long pants as I hate being cold when I'm cycling and as a result I was pretty comfortable. But the diversity of clothing of amongst the many other cyclists on the road always surprises me, from people wearing practically full winter gear to those who are dressed for the height of summer.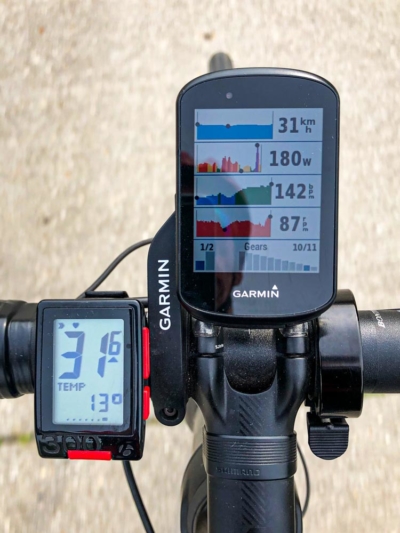 Het nadeel van ideale fietsomstandigheden is voor mij dat ik de neiging heb om mezelf vrij hard te duwen. Ik fiets graag boven de 30 km/u – het voelt comfortabel snel aan. Dus als ik fiets in omstandigheden die dat makkelijker maken, dat wil zeggen licht of geen wind, heb ik de neiging om te duwen. Het resultaat was dat ik de rit in 3:03 afrondde, met een gemiddelde van 28,4 km/u en een paar persoonlijke records onderweg. Volgens mijn gegevens heb ik deze route tien keer gereden in de afgelopen 10 jaar en dit was de snelste die ik heb voltooid. Het nadeel is dat er achteraf een prijs moet worden betaald. Gezien het feit dat ik nog maar net begonnen ben, moet ik het waarschijnlijk wat rustiger aan doen.
For me the disadvantage of ideal cycling conditions is that I tend to push myself fairly hard. I enjoy cycling above 30 kph – it feels comfortably fast. So when I'm cycling in conditions that make that easier, ie light or no wind conditions, I tend to push. The result was that I completed the ride in 3:03, averaging 28.4 kph and setting a couple of personal bests along the way. According to my records, I've ridden this route ten times in the last 10 years and this was the fastest that I've completed it. The disadvantage pushing hard is that there's a price to be paid afterwards. Bearing in mind that I've only just started, I should probably take it a bit easier.
Ik neem meestal een pauze in Kessel. Er is een leuk riviercafé met een panoramisch uitzicht op de rivier, waar het aangenaam is om een tijdje in de zon te vertoeven. Maar het is nu natuurlijk wel gesloten, net als alle andere café's langs de route. Ik had dit vooruit gepland en had een paar broodjes meegenomen. Ik heb dus even bij de rivier gezeten, mijn boterhammen uitgevist en meteen de aandacht getrokken van de heer & mevrouw Duck, die me uitstekend uit de broodjeskorstjes heeft gehaald. Ze waren zo tam dat ze hun hoofd tegen mijn schoenen stootten om aandacht te krijgen, omdat ze duidelijk nog nooit gehoord hadden van 'social distancing'.
De laatste 10 km was ofwel benedenwinds ofwel dwarswind en ik zat er mee te vliegen. Ik merkte ook dat ik bijna klaar was met de rit in 3 uur, dus ik begon echt hard te duwen, gemiddeld 32 km/uur en 192 watt met een gemiddelde hartslag van 150. Ik moet echt leren om dat niet zo vaak te doen. De resultaten van de rit zijn samengevat in de tabellen en grafieken hieronder.
I usually take a break in Kessel. There's a nice riverside café with a panoramic view of the river east & west where it's pleasant to hang out in the sun for a while. But of course, it and every other café along the route was closed. I'd planned ahead for this and taken a couple of sandwiches with me. So I sat by the river for a short while, fished out my sandwiches and immediately gained the attention of Mr & Mrs Duck, who did an excellent job of psyching me out of the sandwich crusts. They were so tame that they butted their heads against my shoes to gain attention, clearly never having heard of social distancing.
The last 10 km was either downwind or cross wind and I found myself flying along. I also noticed that I was close to completing the ride in 3 hours, so I really started pushing hard, averaging 32 kph and 192 watts with an average heart rate of 150. I really must learn not to do that quite so often.The results of the ride are summarised in the tables and graphics below.
| | | | | | | | | | | | |
| --- | --- | --- | --- | --- | --- | --- | --- | --- | --- | --- | --- |
| Date | Ride | Environment | Equipment | Dist (km) | Time | Climb (m) | Calories | Rel Effort | Weight (kg) | FTP | VO2 Max |
| 01/05/2020 | Zwift: Road to Ruins | Indoor | Damone SL7 | 30.46 | 01:08:59 | 276 | 706 | 111 | 87.5 | 206 | 43 |
| 03/05/2020 | RD Venlo 87 | Outdoor | Damone SL7 | 86.91 | 03:03:41 | 141 | 1812 | 296 | | 206 | 43 |
| | | | | | | | | | | | |
| | | | | | | | | | | | |
| | Totals | | | 117.37 | 04:12:40 | 417 | 2518 | | | | |